history of maneki neko
'japanese good luck cat'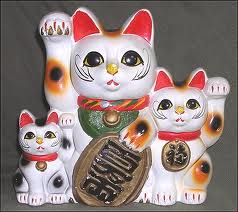 The image of a cat with one paw raised in a beckoning movement is a Japanese talisman or lucky charm. It is known as the Maneki Neko. If worn on the body it brings good luck and also wards off bed luck. Images of beckoning cars tied around the waist are said to protect the wearer from pain and ill-health. If placed at the entrance of a building, it protects the occupants in a similar way. In the absence of an image even the written symbol for the car is alone considered to have protective value. It just sits in your house or in your store. But it does bring the luck, the fortune and the happiness to your home. It work as a kind of lucky charm.

There is also a subtle distinction on its message; if the car is raising its right paw, it is promising 'fuku', which means good luck and happiness, while the left paw ensures 'sen ryo', meaning lots of money, good luck, and good health.

Black Maneki Neko is talismans against evil.

The legend of the origin of the Maneki Neko is as follows…..

The temple Gotoku-Ji, where they had a pet cat, a group of rich Samurai came to the temple. The cat beckoned to them and they followed him into the temple. Once inside, the terrible rainstorm brought lighting with it. A bolt of lightning struck the ground exactly where the Samurai had been standing, just before they followed the cat into the temple. The cat therefore saved their lives, for which they were immensely grateful.

Some authors record a different legend to explain the popularity of the Good Luck Cat. According to this tale, a woman in Yoshiwara was about to be attacked by a dangerous snake. Her favorite cat saw the danger and tried to warn her, but was killed in the attempt. She had an effigy of this cat carved in wood to commemorate its brave deed, and copies of this carving became popular as a lucky charms to protect from danger.


---
+$50 Free Shipping